5 Reasons Why WWE Mayhem is unlike any other Brawler game out there:
TOYS TO LIFE EXPERIENCE
​
We have never witnesses our favourite WWE Superstars actually moving and battling in their Toy Avatar. Thanks to out of the box thinking of developers, WWE fans will now be able to experience the incredible WWE toys indulging in spectacular combat and winning over in each other in Official WWE Arcade Action Mobile Game
OVER THE TOP MOVES
​
How we love it when AJ Styles performs his signature – Style Sclash and the opponent is, for a lack of better term, crushed. How cool would that be if you could perform the exact or even better replica of the move yourself.
Awesome Right? In WWE Mayhem, It's way more than just performing a special move, it's the beauty of how the special is so interesting to watch right when you perform it. WWE Universe was never so larger than life, how it is in WWE Mayhem
NOT JUST WATCH, EXPERIENCE THE REAL WWE EVENTS
​
Raw, Smackdown, Survivor Series, Summerslam are those few events that we watch on our TV or Digital Screens, maybe once in a while, in Reality but wouldn't it be just amazing if we can play the event simultaneously as it's happening in the real world. Experiencing the life of your favourite WWE Superstar inside the arena while struggling for championship is definitely more adrenaline pumping that just watching it on a screen, isn't it?
CLOSEST WWE EXPERIENCE, EVER!
​
WWE Mayhem is the closest experience to the WWE Universe possible in a mobile game. The Arcade Action style of the gameplay is extremely attractive and even more addictive. The feeling of being right there defending, attacking and at the same time not forgetting your showmanship while winning the match is worth sharing. The real time, life-like commentary by Jerry Lawler makes it even more interesting to watch. Imagine, the mobile game which can be enjoyed not just by the player, but also by his friends who are around, is definitely nothing like anything.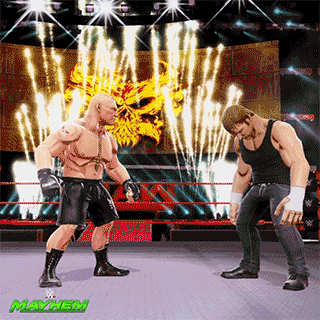 EXTENSIVE & IMMERSIVE GAMEPLAY FOR HARDCORE GAMERS
​
A casual WWE fan would surely enjoy being close to his beloved Universe. But, what about the hardcore fans and action gamers? WWE Mayhem is ideal for the ones who loves brawler games would surely be impressed by the extensiveness of the best game modes possible such as – Story, PvP Rivals, PvP Tag Team, Live Events, Alliances, Defense matches and what not.
Gameplay is exponentially immersive, the more you play, the better it becomes and unlike other stingy games, there's so many rewards that help you progress in the game without having to grind till you get bored.
WWE Mayhem is a Competitive, Arcade Action Game with over the top moves that will sure keep you hooked.
DOWNLOAD NOW & #BRINGONTHEMAYHEM